Bazaar Pilot
Setup your eCommerce storefront in minutes
BazaarPilot is a customizable eCommerce platform. You can either create a new online business or turn your existing retail store into an online store and keep serving your customers better than ever. The platform is backed by powerful tools and features that help you to quickly set up your store and grow.
REQUEST DEMO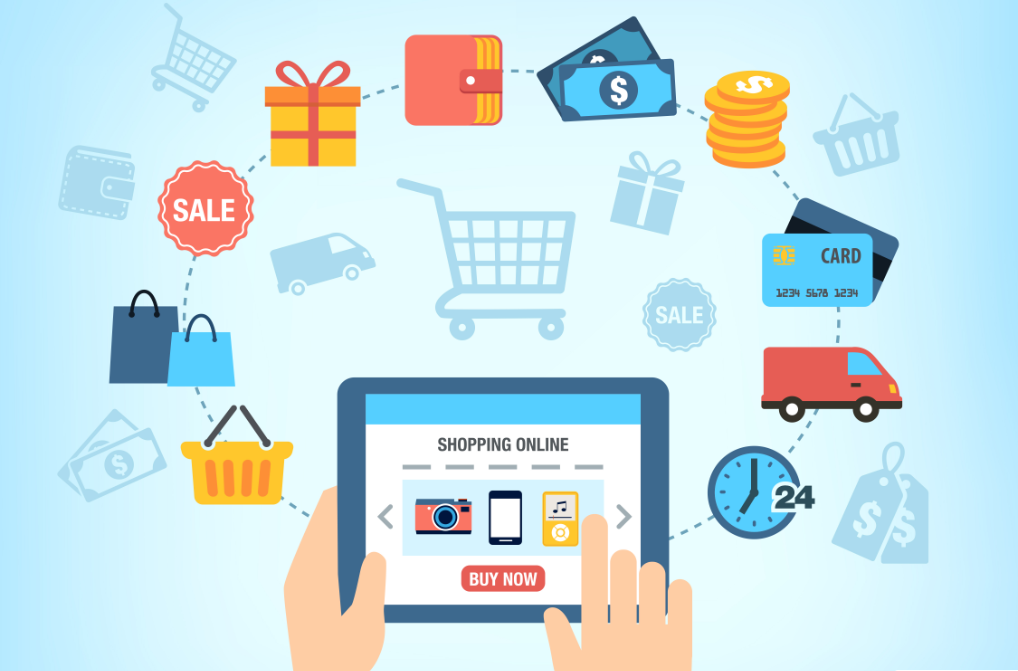 KEY FEATURES:
| | |
| --- | --- |
| | PRODUCT MANAGEMENT |
| | CUSTOMER MANAGEMENT |
| | E-COMMERCE SHOPPING |
| | ORDER MANAGEMENT |
| | MULTIPLE PAYMENT METHODS |
| | MULTIPLE LANGUAGES |
| | MULTIPLE CURRENCIES |
| | NEWSLETTER MARKETING |
ALL FEATURES:
General Features
Simple, Intuitive and User Friendly

The most simple eCommerce solution ever
Simple, engaging and user friendly interfaces
Tasks are completed quickly and efficiently
No technical skills required to understand the system
---
Responsive - Mobile Friendly

Fully optimized for all devices
Desktops, tablets and mobile friendly
Convenient shopping experience on mobiles
---
Search Engine Optimized

Optimized for search engines
Provision to enter search engine meta data
Structural search engine friendly urls
Coding standard as per Google's guidelines
---
Secure

Integration of SSL Certificates
Crucial data such as passwords are encrypted
Protection from malicious scripts and SQL injection
Security setup as per the industry standards
---
Scalable

Suitable for any size of business
Taking advantage of cloud hosting infrastructure
Automatic scaling of network resources
Content Management System (CMS)
100% Editable Content

Centralized content management system for site owners
Every piece of content on the website is editable
Unlimited amount of content creation and updation
Zero learning curve with no technical skills
---
Usergroup Module for Administrators

Manage different level of access to the CMS
Super administrators, administrators, users etc...
Full control over the content security
Works well for even big companies with several hierarchy of users
Product Management
Unlimited Categories / Sub Categories

Create unlimited categories and sub-categories
Provision to add category poster, banner and homepage
Conveniently turn on / off category and all items under it
---
Unlimited Brands

Products can also be grouped by unlimited brands
Availability of optional brand homepage and banners
---
Unlimited Products

Easily create products of any size
Complete flexibility of product configurations
Main picture, related picture and pdf attachments
Highlight any product as popular, featured or sale etc..
---
Powerful Search & Navigation

Browse products quickly with powerful search function
Search by brand, category, sub-category, keyword, price etc..
Sort products by price, latest, popularity etc
---
Product Listing

Elegant and simplistic display of products
Easily turn off / on the price display
Breadcrumb and easy navigation to different pages
---
Quick Add to Cart

Instant purchase of favorite products in one click
Easy navigation to the shopping cart once items added
---
Add to Wishlist

Add any items to the wish-list for later review
Multiple wish-lists could be managed under My Accounts
Easily add items from wish-list to shopping cart when necessary
---
Special Badges / Labels

Each product could be configured to have multiple badges
New, Hot, Sale etc..
---
Product Detail Page

Minimalist view of product and all related features
Main product image and multiple shots of different views
Prominent add to cart & wish-list buttons
---
Product Variations

Variations of a product by different parameters
Options such as by size, color, price, weight etc...
---
Related Products

Automatic or manual suggestion of related products
Suggestions by various algorithm
Shopping Process
Shopping Cart

Elegant view of shopping cart
Provision to update the quantity
Provision to update the other parameters
---
Shipping Calculation

Flat or calculated shipping rate
Shipping calculation by country
Calculation by shipping agencies
Instant calculation of total amount
---
Tax Calculation

Calculation of tax as per the requirement
Calculation by individual items or the order as whole
---
Multiple Shipping Address

Manage multiple shipping addresses
Easily choose address from the previous orders
---
Checkout Preview of Entire Order

Simplest overview of the entire order before placing
Products, shipping address, charges, tax and order total
Various payment options provided
Payment Methods
Cash on Delivery (COD)

Allow customers make payments upon the delivery
---
Paypal Payment Gateway

Seamless integration of Paypal gateway
Paypal is enabled by default
Payment made using existing Paypal account or a credit card
---
Custom Payment Gateways

integration of custom payment gateways as per the requirement
Order Management
Order Creation

Orders are instantly created in the back-end
Payments status from the gateways are updated in the background
Orders could be either completed or cancelled
---
Email Notifications

Successful completion of order triggers notifications
Summary of order sent by email to both customer and site owner
Direct link from email to CMS for instant processing of order
---
Manage Order Status

Manage all the orders effectively in the order module
Status of each order could be easily updated and tracked
Pending orders are displayed by default
---
Generate Invoice

Easily generate printable invoices
Invoices could also be emailed to customer in one click
---
Reports & Export

Powerful analysis of orders by different criteria
Bulk export orders to xlsx for further analysis
Exported data could also be integrated with the accounting system
Account Management
Member Registration

Repeated customers can easily create an account
Very minimal information captured for quick creation
Becoming a member enables various benefits
---
Member Login

Members could login by email and password
Social media and OTP login also supported
---
Forgot / Reset Password

Forgotten password could be reset easily
Password is reset using a special link sent to the registered email
---
My Profile Dashboard

Successful login unveils access to variety of features
Basic information such as name, email, mobile could be updated
Adjust the newsletter subscription preferences
Change password by entering the old password
---
My Orders

Display of all previous orders by the logged in member
Orders could be filtered by status, date etc...
Download invoice of past orders
---
Re-order from Previous Orders

Items from the past orders could be added to the current cart
A complete past order could also be re-ordered as whole
---
Wishlist Management

Member can create unlimited number of wish-lists
Each wish-list can have one or several items
Items could be moved across different wish-lists
Wish-lists also could be shared with friends by email
---
Order from Wishlist

Items in the wish-list could be easily added to the shopping cart
Customer Management
Grouping By Interest

Profiling of customers by various groups and interests
One customer could be added to one or multiple lists
---
Bulk Import and Export

Bulk import of customer data using import template
Export data to be integrated with third party mailing system
---
View Customer Purchase History

Quick view of purchase history by each customer
Link to order record for complete detail
Marketing Features
Subscribe / Un-subscribe Newsletters

Opt-in opt-out for newsletters and marketing promotions
New members are subscribed by default
Opt-out through member preference or the url in the newsletters
---
Bulk Communication

Broadcast module enable bulk communication
Unlimited number of campaigns
Intuitive wysiwyg editor to compose newsletter
---
Campaign by Targeted Groups

Targeted campaigns for various interest group
Only one email sent despite of being in different groups
---
Newsletter Templates

Provision to create pre-defined templates
Save an existing broadcast as template
Reuse of template across different campaigns
---
Blog

Optional integration of built-in blogging tools
Unlimited posts and tags
Easily manage post by blog module in the CMS
Integrated wysiwyg editor to compose articles
Homepage Management
Product Banner / Slideshow

Configuration of landing page banner in multiple ways
Animated slideshow and tagline headings
Call to action buttons
---
Featured Products Widget

Enable or disable featured products widget
Products could be set as featured in the CMS
---
Popular Products Widget

Enable or disable popular products widget
Popular products are either manually or automatically flagged
---
New Products Widget

Enable or disable latest products widget
Latest products are either manually or automatically flagged
---
Product Categories Widget

Enable or disable categories widget
Display the top ten product categories as carousel
Advanced Features
Multi Currency Manager

Multi currency module in the CMS
Administrator can setup the required currency
Conversion rates are manually or automatically updated
---
Live Currency Conversion

Provision of currency choice in the front-end
Prices are instantly converted
Last currency choice will be remembered by the browser
---
Multi Language Manager

Multi-lingual feature for the entire site
Easily update the translations in the CMS
Users are allowed to change the site language any time
---
Multi Country / Site Manager

Centralized product management by different regions
Availability of products based on the regions
Different base currency and language options
Region administrators can access only their orders
---
Shipping API Integration

Calculation of real time shipping calculation
Integration of various shipping agencies such as Fedex, DHL etc..
SEO & SEM
Google Analytics Integration

Integration of Google Analytics service
Complete tracking of user activities in the website
Free access to the analytics by various criteria
Setup of automated schedule email of the report
---
Provision for SEO / SEM Meta Tags

Search engine friendly meta tags in the header
Special tags for social media sharing
Customized poster exclusively for social medias
---
Social Media Sharing

Integration of social media sharing widgets
Users can easily share different pages or products
Bookmarking on social bookmarking websites
---
Search Engine Friendly URLs

Structural search engine friendly urls with targeted keywords
Leads to better ranking in the search engines