"Design is not just what it looks like and feels like. Design is how it works." – Steve Jobs
This is so true. Most businesses believe that if they only have a stunning website design, they can attract loads of traffic and/or convert their visitors to customers. If you also believe this, then it is the time to re-think your beliefs.
It is not just about the design, but about how the design works across all kinds of devices.
We are living in a digital era driven by smartphones and tablets. So, if your users cannot access the features or content your website offers easily across mobile devices similar to the desktop, it will not take them even a minute to leave your site. They will never again come back to your site and you will receive poor word-of-mouth on top of that.
You never know which devices your users will use to access your site. So, why should you limit the opportunities to only PCs? The surprising thing is that many businesses do not even realize that their site is not user-friendly on mobile devices and so they keep losing potential leads.
So, does that mean you should create a website for mobile as well? The answer is no. The solution is a responsive design and not a mobile website design.
Confused?
Do not worry. In this article, we will explain what a responsive design is, how it is different from mobile website designs and how a responsive design can benefit your business.
What Is a Responsive Design?
A responsive design makes sure that your website design seamlessly adjusts to fit the user's device to provide them with the highest quality experience of your content and design.
It is a device-independent design and you only need to have one website that is coded to adapt to all screen sizes. You should not confuse responsive designs with mobile website designs. A mobile website is simply a dedicated mobile version of your site and needs you to maintain two versions of your website and content. It is thus unlike responsive designs.

The Benefits of a Responsive Design
Here are several benefits of a responsive design which will help you understand why you should go for it.
1) Increase Conversions
According to a report, 74% of people are more likely to return to a website if it is mobile-friendly. Also, 67% of mobile users acknowledged that they make more purchases from a mobile-friendly site. This is proof that having a responsive design can dramatically increase your conversion opportunities. But, it is still very alarming how much work you can miss out on if you do not make your site responsive.
The same report mentioned above also states that 50% of people mentioned that they will use a website less often if it is not mobile-friendly even if they like the business. Also, 48% of the users said that they feel annoyed and frustrated when they visit a site that is not mobile-friendly. Needless to say, if your site is not responsive, you are leaving business on the table.
Here are a couple of examples of how other businesses improved their conversions with a responsive design.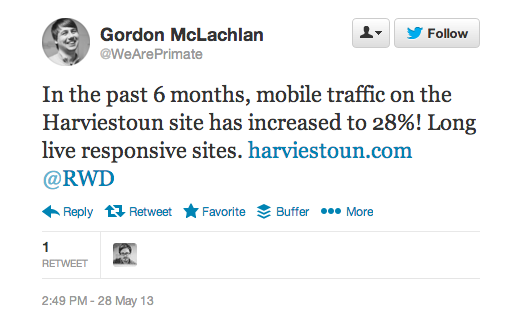 2) Bring in Loyal Customers
How would you feel if you need to zoom in and out, scroll up and down, left and right on a website when accessed from a mobile device? Will it leave a bad experience for you? Of course, it will. This holds true for your users as well.
According to the same report mentioned above, 58% of people said that a poor user experience made them less likely to engage with a business.
But, a responsive design makes your website provide the same user experience on mobile devices across all screen sizes as it offers on a PC. Needless to say, if the users find your website easy to use, even on a mobile device, they will most likely make a purchase and come back again for future purchases and can become a loyal customer.

3) Load Your Site Faster on Mobile Devices
The Google Page Speed Developers' standards recommend that an entire website page should load under two seconds on a mobile device and contents above the fold should get loaded under one second.
But, this is only possible when your website is responsive. A desktop website will never get loaded this quickly on a mobile device. It is evident that if a mobile user has to wait too long for a page to load, they will most likely leave your site. So, a responsive design is the key to engage visitors.

4) Boosts Search Ranking
Like we mentioned earlier, a responsive design does not need you to create two different website versions: one for PCs and another for mobile devices.
So, in a responsive design, the URL for each page is a unique identity. Therefore, the same link which directs you to the desktop site also leads you to the mobile site. The absence of multiple URLs makes the back-end profile for both desktop and mobile the same, helps in non-dilution of the page rank, and nullifies the risk of getting penalized by Google due to duplicate content.
Also, because a responsive design ensures a better user experience across all screen sizes, the users will spend more time on your site leading to a lower bounce rate. This also boosts your search engine visibility. Moreover, today mobile searches have overtaken web searches. So, when it comes to mobile searches, Google ranks URLs optimized for mobile devices at a higher position. Therefore, a responsive design helps boost your ranking on mobile searches as well.
We have already covered the faster loading of your site on mobile devices which is also a critical factor that influences the ranking on search engines.

The Next Step
By now, you must realize how important it is to have a responsive design for your website. So, now the next step comes: how to make your site responsive.
To do this, you first need to review how mobile-friendly your site is at the moment. You can do it by performing a mobile-friendly test from Google. Here is the tool to do the test. This will give you complete details on which pages are not mobile-friendly, how Googlebot sees the pages, and how to make the pages mobile-friendly. This will help you fix the problem easily.
The next step is getting the help from a website design and development company that has extensive experience in developing a responsive website. Look out for one that has a proven track record and will be available to you whenever you need them.
So, when will you make your site responsive? Do you have any questions to ask? Please feel free to leave your comments below and thanks for reading!